Is Your Computer Security Software Meeting HIPAA Requirements So You Can Focus On Patient Care?
Let us help you become HIPAA compliant, through the use of computer security software that meets HIPAA guidelines, for $23 per computer per month.
Call Us Today At
435-673-1655!
Attention Health Care Providers in Southern Utah
Are you tired of not knowing if you are HIPAA compliant and not being able to get live support
quickly for your computer systems and EMR software when you need it?
IT Services of Utah is the only company in St. George that helps Health Care Providers in Southern Utah earn a HIPAA Seal of Compliance, supports EMR software, always answers our phones live, and has a help-desk that is local, not outsourced.
Call us today to find out how we can eliminate these pain points for you.
3 Reasons

Health Care Providers in Southern Utah Choose IT Services of Utah To Support Their Computer & EMR Systems
1. We Always Answer Our Phones Live.
We know that when you call for help with a problem, the last thing you want is an auto-attendant, an answering service, or a voicemail box. When you call IT Services of Utah, you get a LIVE person to help you from 8:00 AM to 5:00 PM Monday through Friday.
2. No Waiting For Service.
With other companies, you're left waiting for hours or even DAYS to get your computer problems resolved because they're short staffed, disorganized, or too busy trying to serve all their clients. Our clients are blown away by our ability to deliver immediate response.
3. Our Help-Desk Is Local, Not Outsourced.
Many IT providers outsource their help desk to other companies or even other countries. We don't put you through that nightmare. We provide our own in-house help desk and make sure the technicians helping you are skilled, friendly, and helpful.
What Our Clients Say About IT Services of Utah
We Do Not Experience Downtime
---
We know our data is protected by the experts at IT Services with the latest technology. When we need assistance, help or advice, you are there to help us.
Other companies put us in a queue and it could be hours or days to get problems solved. We do not experience downtime waiting for things to be resolved with IT Services of Utah.
Jeff Huyboom
CFO, Creek Valley Health Clinic
Colorado City, Arizona

Same Day Service, Issues Solved Quickly
---
IT Services of Utah provides outstanding service. The comfort of knowing your computer system is being monitored and protected by professionals is priceless. IT Services provides quick, efficient and same day service. They are very quick in solving issues. IT Services is a great company and they have great people that work there.
Dan Nielson
Administrator,Coral Desert Surgery
Center, St. George, Utah

Peace of Mind Knowing That My Patient Records Are Safe
---
Mark Stauffer, and his team at IT Services of Utah, provide a top-notch, dependable, and timely service with the utmost professionalism. I have called and emailed their team numerous times with questions, and it is very refreshing to talk to an actual human being that cares and understands or receive an email response in minutes.
Dr. Colten Bracken, MD
Main Street Family Medicine
Enterprise, Utah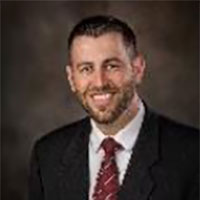 Not ready to call us just yet?
Download This Free Report To Learn:
The top 3 ways your company can be severely damaged by cybercrime and what you can do NOW to protect your business.
The #1 threat to your business that even the BEST firewalls and anti-virus software can't protect against (and what you need to do now to remedy it).
The 3 "ticking bombs" in your security that are waiting to go off at precisely the wrong time, resulting in complete devastation of your business.
NEW protections to put in place now including tools available and security protocols to protect yourself from a crippling cyber-attack.
Our report doesn't cost a dime and we won't bother you with a follow-up sales call either - that's a promise! Fill in the form and download your FREE copy now!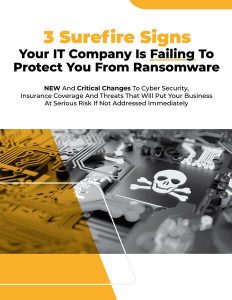 Order Your
FREE Copy Today!